Looking back, I would admit that Mexican food and I share little, if not hardly any happy memories together. Thus, I made it a mission to have at least one authentic Mexican meal while I was in San Francisco. But it was out of sheer luck and coincidence that we met up with Charlene, who took us to El Farolito in Mission District for dinner.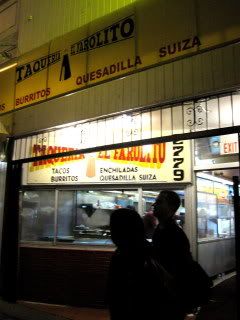 One of the highlights of any vacation is meeting up with family and friends, but it's amazing when you head out to a dingy, ratty craphole –in-a-wall eatery for some good ol' catching up. I would have probably chosen somewhere like La Tacqueria, but there would have been "too many angmohs" (as confirmed by resident angmoh himself, Jeremy). I say, keep your blinkers on and focus on the food.
Our food took a few to arrive but as soon as they arrived, we knew it wouldn't be easy squeezing out of our booths after dinner.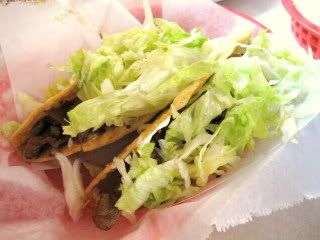 Carne asada tacos, crispy corn tacos struggling to hoist up tomatoes, onions, lettuce fresh salsa and grilled beef.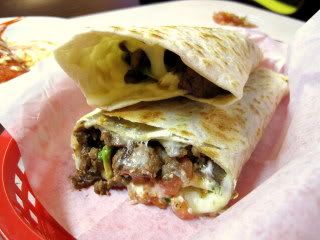 The super quesadilla suiza was massive soft tortilla mad-stuffed with cheese, avocado, sour cream fresh salsa and grilled beef. This was so good, I was stuffing my face with little regard for the potentially embarrassing smudges of sour cream on my face.
I could feel my inner Adam Richman rubbing his palms together gleefully . My gut's not going to like me very much after this … but Gut, we will talk tomorrow, I promise.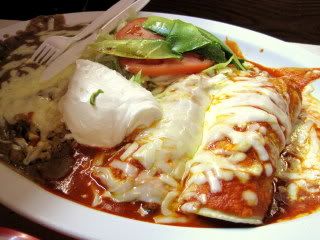 Taunt enchiladas slathered in chili pepper sauce and cheese, served with rice and a baby-fist-sized dollop of sour cream. This plate is big enough to feed at least two people.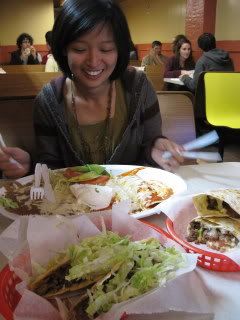 Despite the smile, folks, this is not a Happy Meal advertisement and the person shown in this picture is a full grown adult in her mid-twenties.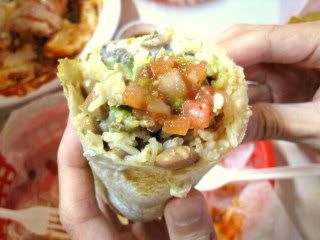 Super Burrito, a supersize burrito filled with grilled meat, beans, sour cream and rice. Talk about a B Bomb.
And a basket of plain nacho chips. Did we need it? No. was it tasty? Hell yeah.
I was skeptical of how we would stuff this into this - and everything else – into our stomachs but we actually cleaned up our plates and baskets – even the nachos. But that was then (October). I'm looking at these pictures now and I'm starting to feel hungry all over again.