As per the finesse of plastic surgeons and artisits, any dish that passed through the kitchen doors of Jaan was impeccably prepared and presented. But it was like a beautiful painting best admired from afar, behind bullet-proof triple-laminated glass… or the high school crush that you never got to know for fear of disappointing reality.
Before and during the meal, the bread parade consisted of something for both carb whores (baguette, onion roll and ciabatta) and foes (parmesan cheese and squid ink straw sticks with eggplant puree and olive oil).
Remember how our mums would never let us have snacks or sweets before proper meals? Clearly, Mama Chiang told her son something else.
AMUSE BOUCHE
We snacked on 3 intriguing amuse bouches - chicken skin, bamboo ash and sakura ebi brittles; dijon mustard dip masquerading as a furball; and crispy shrimp heads and baby radish in chocolate soil. Quite a festive sight, no?
The fat-flavoured chicken skin delighted but bamboo ash and sakura ebi only bore a smidgen of flavour - if I concentrated hard. Also, I had trouble with the fragile brittles which often broke off and stuck to the dijon mustard dip. Well, the dip was delicious so if I were them brittles, I would probably want to be with the dip
forever and ever, XOXO
. The highlight for me was the dijon mustard furball but the servers cleared away before I was done with it. Sad.
While adorable, I couldn't make the connection between shrimp and soil ... or chocolate for that matter. Very very weird. I would have thought a Fat Duck-eqsue "edible sand" would have been more appropriate. Of course, that wouldn't be terribly original but would have at least strengthened the sea-sand-shrimp connection. Or remove the shrimp heads… focus on the garden theme…
Ok, I'm starting to ramble.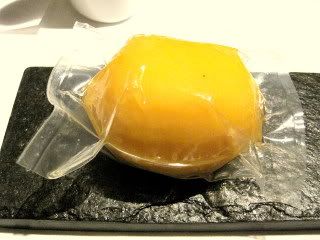 CITRON SOUS VIDE
The lemon "sous vide" as one of my favourites for the evening though I don't know why it was served so early in the meal, instead of a pre-dessert of sorts. It came from a lemon that had been vacuum-packed for 2 month. A smooth gelatin wrapped around a mild sweetish lemon marshmallow made almost to resemble its maker above.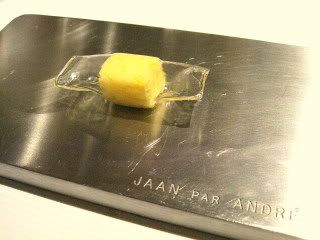 CITRON SOUS VIDE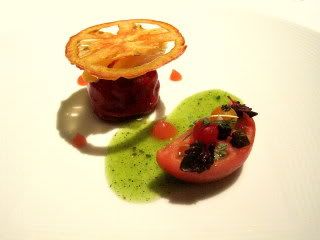 Compliments of the kitchen, we each had Shizuoka tomato, prepared four ways -
confit, chip, sorbet and fresh – with a dash of basil coulis.
Insert big smile.
GAMBAS ROSE DE MEDITERRANEA L' ESCABECHE
The Mediterranean red prawn "Escabèche" was such an extremely pretty dish.
I loved the mélange of flavours between the vegetables, extra virgin olive oil and garlic "ice" But once again, I had no idea what role the prawns played. Though sweetish fresh and amaebi-like, it was well appreciated on its own rather than part of the team.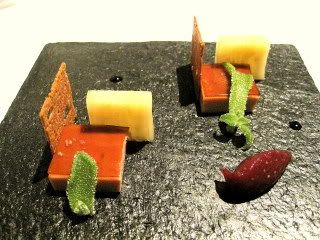 PRESSÉD E FOIE GRAS, PEDRO XIMENEZ
Another highlight of the meal was the pressed foie gras coated with Pedro Ximenez. Accompanying it were apple "lapis", crips and fig compote.
Oui, so lovely.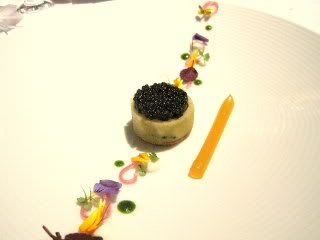 TARTE TATIN AU CAVIAR
I was really looking forward to the caviar tarte tatin but was quite disappointed that the 'tart tartin' was a small forgettable tart disc hidden beneath the caviar and mashed golden apples. I scooped up the accompanying mashed golden lube and edible flowers, without registering a blimp of satisfaction.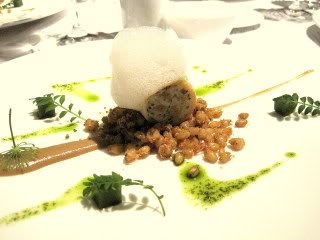 BARRACUDA SAUVAGE, ARTICHAUT FUMÉ ET BLÉS TORIFIÉES
By now, I was ready for some real food. While one proclaimed the chargrilled wild baby barracuda be his favourite dish of the evening, my barracuda could have stayed on the grill a little longer. But I loved the toasted Brittany wheat – who knew that nutty bubble wrap could be this enjoyable?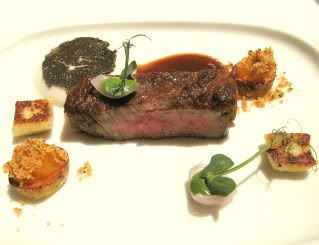 WAGYU JAPONAIS, TRILOGIE DE POMMES DE TERRE ET FOND D'OIGNON CORSÉ
Next up was another stunning plate - Japanese Wagyu A5, with wild potato done three ways - mousse, medallion or panfried - and burned onion broth.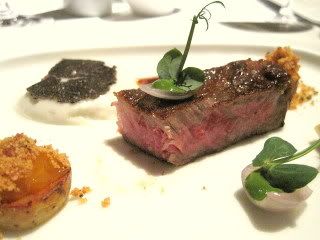 WAGYU JAPONAIS, TRILOGIE DE POMMES DE TERRE ET FOND D'OIGNON CORSÉ
The Japanese Wagyu A5, fatty and medium-rare, was superb; but it was the supporting role, a plebian wild potato, that rang the horns and bells.
PRÉ DESSERT
Campari grapefruit espuma and black cherries
DESSERT DE LA SAISON
The Dessert of the Season was milk marmalade ice cream, chocolate ganache, chocolate soil and cookie that reminded me of a Kambly butterfly biscuit. The flavours aren't foreign (chocolate is always 'in season' for me) but it was a lovely dessert.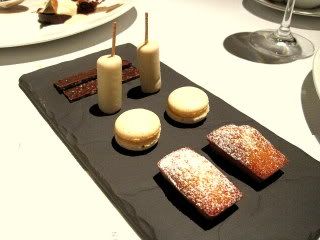 A darling sampler of petit fours – milk chocolate with pop rocks, white chocolate popsicles berry sorbet (delectable), vanilla macarons and buttery-with-crisp-edges mini Madelines.
Tasked with introducing Singapore to "Nouvelle Cuisine", Chef Andre Chiang has been receiving much praise for his art. I heard he's really decent nice guy, so I feel quite awful not pinning the 'I <3 badge.="" br="" jaan="">
I thought Jaan was interesting and fun, akin to opening box after box of tiny trinkets and charms. While I can't critique their technique without having a sledgehammer flung in my direction, the taste and flavours fell short of mind-blowing.
That being said, I'm really glad I got a chance to try Jaan. It's odd that though I found some parts of the meal disconnecting, I'm intrigued by what else it has to offer. I certainly hope Chef Andre hangs around long enough to defy naysayer with a powwow performance.
Jaan Par André
Swissotel The Stamford
2 Stamford Road
Tel + 65 6837 33223>