I would like to believe that even the most sophisticated gourmets have deep dark secrets - crude but enduring pleasures. Be it direct-from-the-fridge leftover pizza or kewpie mayonnaise abuse, these very private fetishes question our public desire to live like connosieurs.
For me, despite my very best attempts to refine my palate for Japanese food, there is something disturbingly gratifying about walloping platters of sashimi at Japanese buffets or more specifically, Minori.
Most Japanese buffets are a sad waste of calories but the quality at Minori can be good (if you skip the rolls) and sometimes, excellent (I do stick to a tried-and-tested list).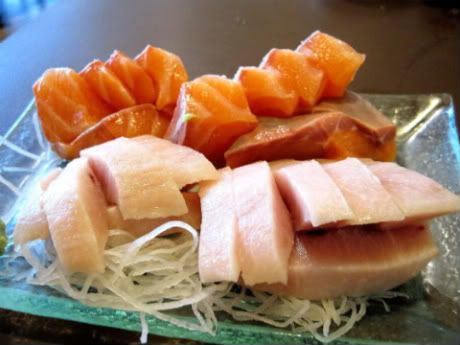 Minori is somewhere I can practise Operation Obliteration when sashimi pangs hit. Though I was fast approaching my Omega-3 limit for the
day
week, I single-handedly polished off this platter of salmon and swordfish slabs (my second) swiftly, making perodic pitstops for tea and conversation.
Oh! Another dish at Minori that threatens my golden ticket into Oma-Kaiseki Land on Judgement Day is the brilliantly-named
Beef with Special Sauce
.
*Smacks lips*
Minori Dining & Sake Bar
81 Clemenceau Avenue
#03-15/15 UE Square
Tel: 6737 3353