Last time round I dropped by, I was too shy to take photos so here are the glory of pictures to make up for the previous trip.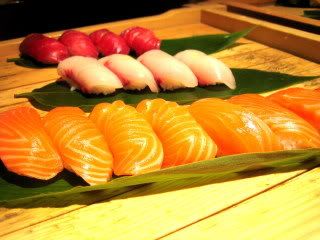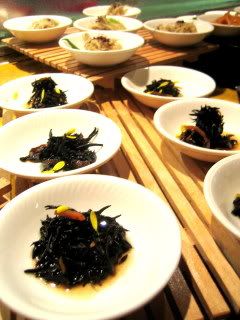 Away from the other sections, the Japanese counter stood fear of being ignored. It was well-stocked with sashimi, sushi, soba and appetizers.
There were the usual suspects - salmon, tuna, tai, unagi, tamago, futomaki, inari etc. It may not have the roving eye selection of nigiris and makis but they were well-prepared.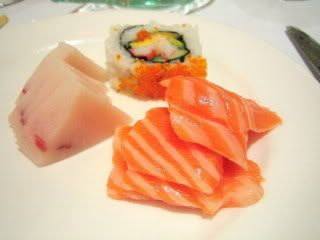 Keen to recharge my omerga-3 levels, I helped myself to plates of sashimi, especially the salmon belly slices. Oh, when I didn't see any mekajiki sashimi, the chef behind the Japanese counter readily sliced up a few upon request.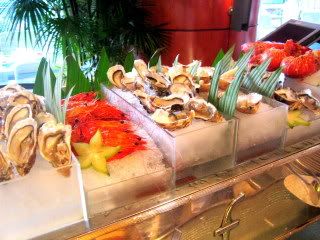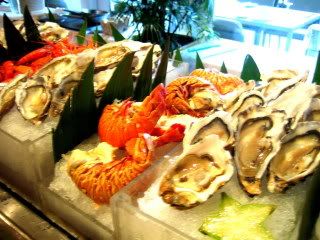 You could easily get bang for your buck at the cold seafood section that spotted an array of oysters, clams, mussels prawns and crayfish.
I wasn't in a prawn peeling mood though I just compensated with more clams, mussels prawns and crayfish.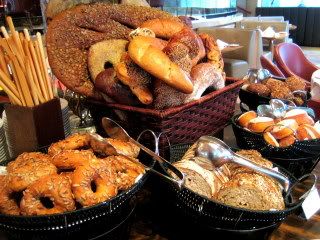 There was a holy assembly of loaves and rolls that paid homage to the Bread God. I walked past the pain-ed counter many many times, each time casting apologetic glances, "Sorry loves. I can't load up on you". Eventually I did have a soft white roll that had fluffy innards and a crusty bottom.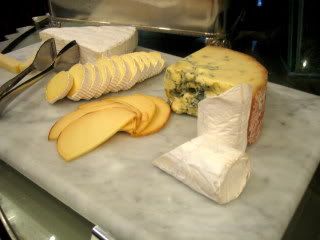 Nobody moved the cheese as it was still hidden behind the desserts.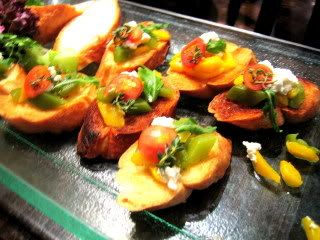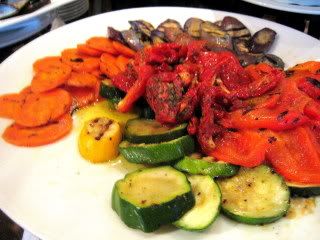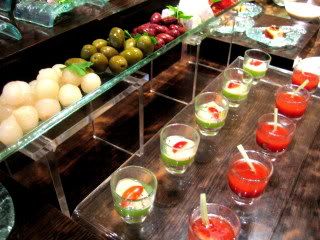 I wish I had greater penchant for salads and anti pasti as that section was incredibly well-stocked with a motley of grilled vegetables, dips, olives, bruschettas, cold cuts etc.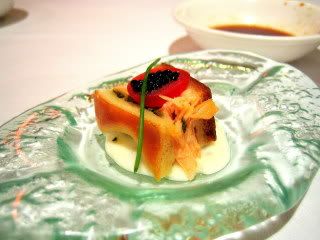 I thought this was too pretty to pass up. Smoked salmon wrapped in bready casing could have easily passed off as a cute amuse bouche in Forlino.
There were a couple of Made on the Spot items - pasta and minute steak. I'm not a pasta person so this was ok to me. Yang, on the other hand, chugged it down quickly.
I requested for my minute steak to be done medium-rare so kudos to the guy for getting it right.
I thought "minute" stood for 1 minute steak because it was small so it took only about a minute to get it done but Yang insisted it was "minute" as in tiny, petite minute.
Though I think she's right, I didn't want to admit it then.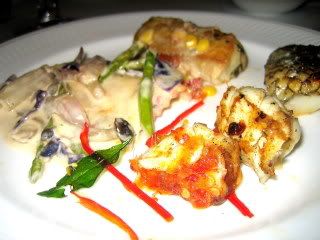 Sigh, the hot food was disappointing. Maybe I'm just fussy. They had crab ravioli, sweet and sour fish, drunken prawn, cod fish with miso sauce, mahi mahi, seasonal vegatables, grilled squid with thai chili sauce and chili crab.
Maybe they just switched items and somehow assembled those that didn't call out to me like last time round.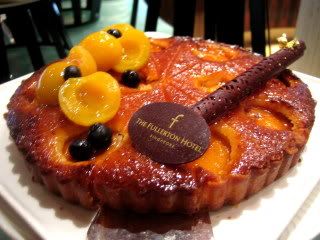 Maybe I should have just gone for a dessert buffet because I made countless trips to the dessert section - even before Yang and Joyce made it to the hot food section.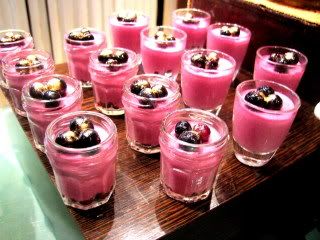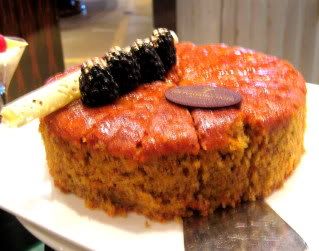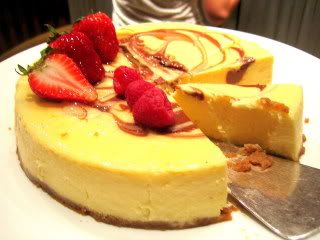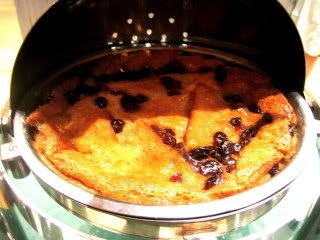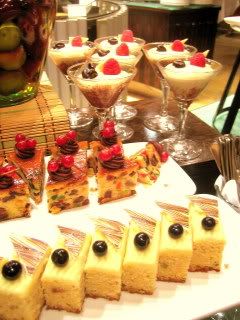 Apricot tart. Chocolate mint cake, raspberry green tea cake. Marble cheesecake. White chocolate pastry. Fruit cake. Carrot cake. Berry mouse with crunchy chocolate pearls. Tiramisu. Crème brulee. Bread and butter pudding. Strawberry mousse. Nonya kuehs.
Countless countless trips...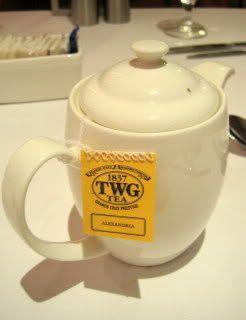 Awash with TWG Alexandria - Mediterranean mint and vanilla.
Sidenote: I really like TWG's macaroons though they didn't serve them at Fullerton.