#2 Day Out in Hong Kong with Diana, we headed over to Kowloon because we were sick sick sick of Hong Kong island. We had lunch at Chao Inn, a restaurant that specialises in traditional Chiu Chow cuisine. I was almost glad to be taken out of my cha chen teng comfort zone and eager since I've only had Chiu Chow cuisine once before.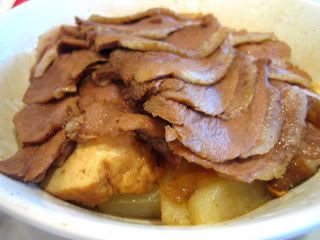 It was difficult to order a table's full of items though since there was only two of us but we had their signature Braised Soya Goose, thin tender slices of soya-sauced goose with beancurd and radish. I thought was pretty good and I definitely like it more than roasted goose.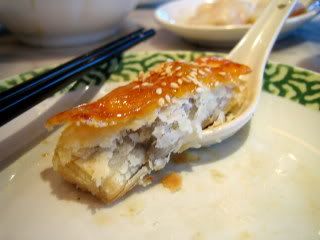 I was sorry we only made it to the restaurant during lunch hour because every day before 12 noon, there is a special discount for dim sum.
"Nooooo..."
cries the cheapskate in me. Judging by the gossamer pastry of the char siew so (barbequed pork pastry) , dim sum at Chao Inn should be pretty good.
We walked over to The Sweet Dynasty, which has been widely raved for their desserts.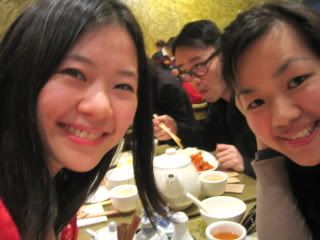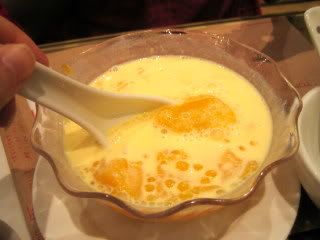 Diana had one with mango, sago and pomelo while and since Sweet Dynasty's tofu desserts are supposedly 'you had me at hello', I had a Tofu Pudding and Fresh Mango.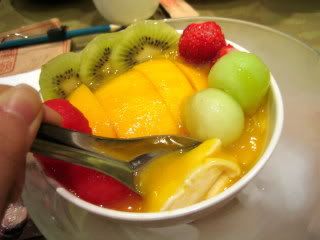 Hmm if truth be told, it was more 'you had me at huh'. I like the bite-size watermelon and honeydew balls, and the whole half slab of mango... but the tofu pudding itself was bland and ain't that smooth to begin with. Very disappointing.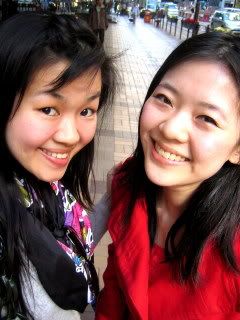 After that we decided to do something different and visited the Space Museum and Museum of Art. Alas, it was a hopeless attempt to culture-rize ourselves as we practically zoomed through the exhibitions, spending more time in the Museum Shop.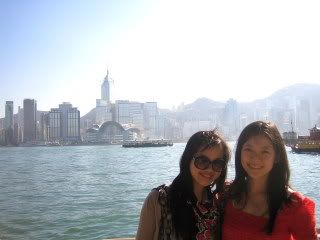 We took the ferry back to Hong Kong island and landed up at Wan Chai where peckish, I had an egg tart from Kam Fung Restaurant. When we arrived at the restaurant, a fresh batch of egg tarts had just descended from the
gates of heaven
oven.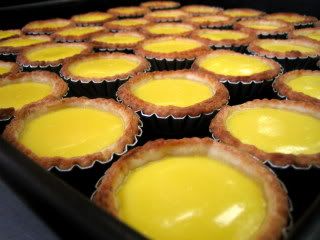 And the angels sang...
It was the flakiest of puff pastries and insides so wobbly, they couldn't keep to themselves without the puff pastry.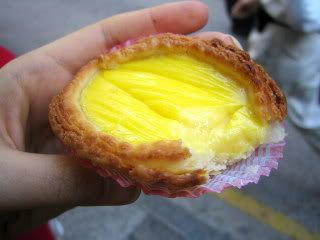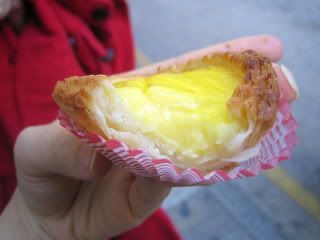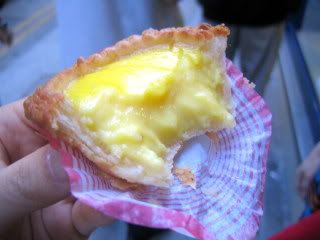 Almost gone!
After that, we walked to Hong Kong Park where it was very peaceful and almost zen-like. The weather was so beautiful that I almost wished we had a picnic basket with us.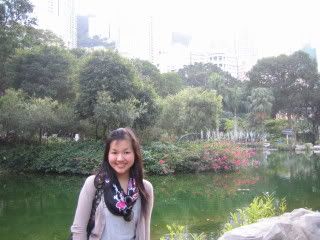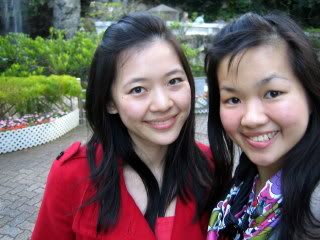 We saw
alotta
bride-and-groom-to-bes taking wedding photos. And by '
allota',
I mean, so many it was almost prepostrous and I had to take a couple of snapshots to prove it!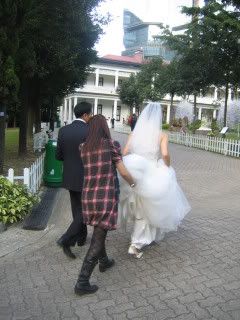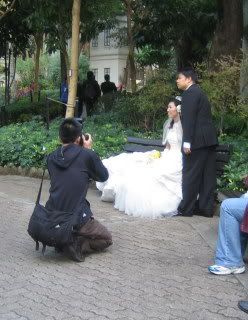 Chao Inn
10/F. No.1 Peking Rd
Tsim Sha Tsui
Kowloon
Business Hours: 9:00am - 12:00am
Tel: 2369 8819
The Sweet Dynasty
G/F. 88 Canton Road
Tsim Sha Tsui
Kowloon
Kam Fung Restaurant 金凤茶餐厅
41 Spring Garden Lane
Wan Chai
Opening Hours: 6:45am - 7pm