chiang mai- chronicles of the missing collarbones. [part2]
breakfast: each day commenced with a spread of american breakfast at the hotel. there's the usual bacon, ham and eggs which i didn't touch during the entire stay (call it americanobreko-phobia.. i hate the stench), pancakes, waffles and french toasts, a MAGnificent (for me the bread person) array of fruit or multi grain bread, brioches, muffins and a thai (or asian?) section which included khao toms (aka boiled rice aka porriage) and asian side dishes.

so breakfast? -filling. erm no complains though no pictures too due to its pedastrian nature.


wat say you?

our second day consisted of a half-day city tour, where we visited the more significant temples in Chiang Mai, namely Wat Phra Singh, Wat Chedi Luang, Wat Chiang Man, Wat Suan Dok and Wat Jet Yot. i got to be honest AND I DON'T MEAN TO BE DISrespectFUL- but after five 'wats', i wasn't too big on visiting more despite the fact that there were hundreds more within the main city itself. (believe me, i will have the same problem in europe with all the cathedrals and castles) heh heh..

the night bazaar is probably the biggest thing in chiang mai. they sell everything from munchies to pashmina scarfs to buddha sculptures and manicure services. on the first night, we were like 'ooo, look fake birkenstocks for 500 baht!' then you realise you could get it as low as 250 baht (which is about 6 sing dollars). yup bargain is the order of the 'night' but i realise i suck at bargaining. after the price is offered, i try my luck at one-third of the price but the vendor offers twenty percent off plus a pseudo- sincere look and i melt.

trick is to not give in to the first vendor as there are multiple stores selling more or less the same stuff. hohoho. oh if you can, hold out for the sunday market, things are similar but prices are considerably lower.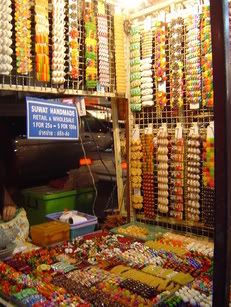 i was stuck at this store for a good ten minutes enamoured, gawking at the beautiful HAIR PINS! these hair pins are made from all sorts of snacks and spices like chewing gum, pasta, m&ms, popcorn and later waxed to prevent decay. lovely!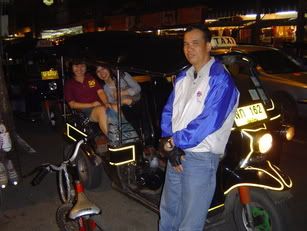 we basically tuk-tuked around town as it was the quickest way to gt around.. oh yea, haggling skills do come in handy too! the driver usually charges by per person and riding on the tuk tuk reminded me of those crash bumper car theme park rides. the thrill that is..




there was muay thai going on within the night bazaar arena too but i don't think its that authentic.. try like the stadiums if you are interested.