A couple of months back, some food bloggers (myself included) were invited by Tetsu's PR folks to do a food tasting session. I eventually rejected the invitation as the PR people seemed uncomfortable with my request to visit the place unannounced. What I really wanted was to have an objective normal-walk-in-customer experience, without the PR person hovering above my eye line; and they failed to pick up on this unusual request.
On a separate note, dear readers, you should really compare reviews of those who accepted the PR invite and others who visited on their own accord.
Although the PR-social-media thing fell through, my family and I did eventually pay a visit to Tetsu. The restaurant was half-filled on a Saturday night, which was quite frankly a ghost town by Orchard-Weekend-Night standards. Let's hope it's because everyone has flocked to the Marina area for the F1 Grand Prix.
The PR people would have probably suggested the Kaseiki sets but we were onto something else. Anyone in the right mind probably wouldn't order sushi or sashimi in a restaurant that specializes in tempura and tonkatsu but when you are craving for something, you are probably too irrational to be 'in the right mind' ... and I was craving for sushi.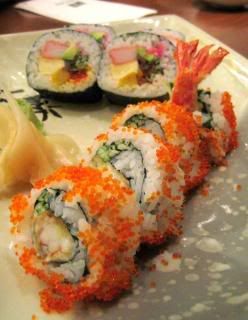 The futo maki and tempura ebi were surprisingly good. Though the vinegar rice could have been sweeter, the ingredients tasted 'fresh'.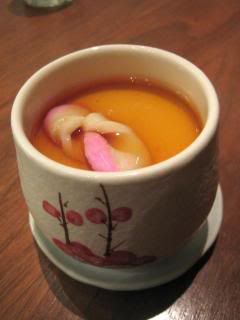 While sadly lacking in fillings, it was hard to stay mad at a chawanmushi that was slip-off-your-spoon smooth.
The Rosu Kstsu-Ni set featured a katsu pork loin laid to rest in a soupy eggy broth. Though it didn't take long for the soup to de-crisp the panko-breadcrumbed crust, by then your attention would have shifted to the incredibly chunky yet tender pork loin.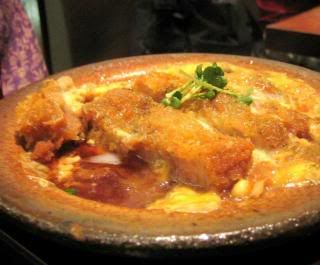 If you would like your katsu to channel Captain Crunch this Halloween, go for the Rosu Katsu set instead. Unlike Tom Ton, the sesame seeds are grind on the spot by the service staff before getting tossed into the sticky sweet sauce.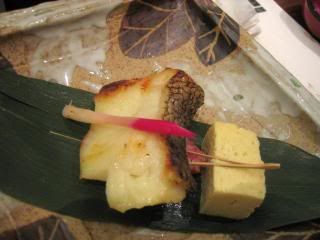 The Gindara No Saikyouyaki and Salmon Sashimi set was decent but should only be order if you cannot take too much heart-clogging fried food like my Dad. The sashimi was almost decent and the palm-size of cod fish appeared pedestrian. The only thing worth reminiscing about was a slice of savoury smoked duck breast hidden beneath the cod fish.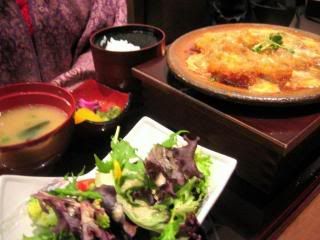 Each set was served with vegetable salad (more dressing please), pickles, rice, very weak miso soup (and by "very weak", I mean "weaker-than-what-I-can-get-from-an-instant-pack weak") and dessert.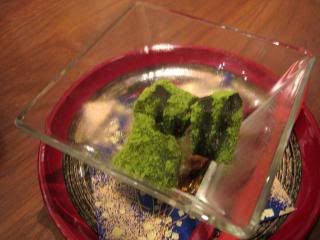 Dessert was slightly more unusual than your regular watermelon slices or green tea ice cream. We had warabimochi monaka, bracken starch cuboids heavily dusted with green tea powder. It was kind of like biting into a bitter jelly-mochi crossbreed. Quit unusual.
Dinner at Tetsu was pleasant enough. Service was prompt and approachable. I don't know if Singapore is ready for such specialized cuisine but I hope that more of such specialty outlets hang around.