a singaporean phenomenon.
a trip to crystal jade la mian only served to remind us the sheer popularity of seemingly- insipid beijing cusine.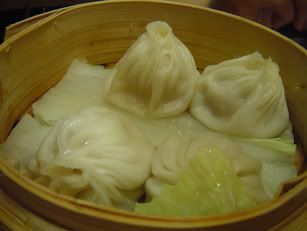 the ever- popular xiao long bao. i REALLY don't think there's a need to elaborate on the taste as just about every alternate singaporean has had sleepless nights over this. my only advice: watch the 'juice'! or you will see the dry- cleaning bill.
la mian with beef in chili oil was extremely tasty. the shin of the beef proved to be agreeably tender while the chili oil gave a real kick to the otherwise fragrant but mild broth.
yang zhou siew mai surprised first-timers such as ourselves as it was devoid of meat!? banishing mr atkins to the corner, the dumpling was filled with glutinous rice instead, tasting very much like the rice dumplings that we ate during the dragon boat festival.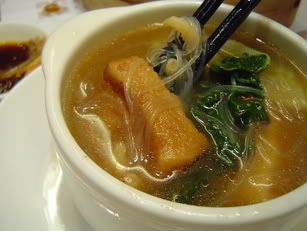 mum, on the other hand, was not in the mood for noodles and she tried out a soup dish- vegetables with tofu and vermicilli.
the highlight of my day was the sweet and sour chicken. when ordering this, i felt like a kid who was guilty of ordering an extra scoop of icecream.. reason being that dad doesn't usually approve of anything on the menu that starts of with 'sweet and sour..' as he believes that this is fake chinese food.. found only on tables where either 1. causasians and 2. kids under the age of 12 resided. tsk tsk, prejudice be gone!
the sweet and sour chicken was incredibly good! the chunks of deep fried chicken ball coated in salivacious tomato sauce was polished in little time.. like there was any reason not to do so.. oh yea, the fat content.. whoops. but just take a look at the glossy my-oh-my pictures and ask yourself if you will do otherwise.