wednesday.
lunch at the club today was like a torrid love affair with all things local. it was a sorta farewell luncheon for my mum's friend,
who is also my friend's mum -- which technically makes her my friend too..
haha anyway, how do you order lunch for someone who will away in china, nanjing? loads of local yummies naturally! there was beef hor fun, penang char kway teow, fried calamari, rojak, tahu goreng, hokkien mee, chicken wings and sorrowfully, as the dishes were constantly being passed around like a thannksgiving meal, i could not whip out my trusty camera in time to snap the bevy of droolsworthy food.
however, i knew someone up above was trying to tell me something when this plate of fried hokkien mee landed right in front of me, tantalizing, urging me to take a shot. behold, fried hokkien mee!
oodles of noodles stir-fried with fishcake and prawns with a fresh wallop of sourish-but-fiery sambal. the oh-so-smoky aroma turning me dizzy with pleasure and each mouthful swarmed in delight, urging me to
go on go on...
though it was on the 'wet' side, it was definately a well-appreciated lardy fardy affair.
the chicken wings were a force to be reckoned with as well. with a ginger punch to enhance the flavour, it was crrr-crisp on the outside and utterly juicy on the inside.. not difficult to see how fried chicken has won itself legions of fans over the decades. for a bigger kick, just gobble up the skin.. -please don't curse me when you land up on the operating table..
after that everyone proceeded chinese painting classes at the adjourning building. oh did i mention painting class was literally afternoon-tea-in-disguise? every week, someone would bring some snacks, be it pastries or kuehs, as chinese water-painting is SUCH HARD WORK. yea who am i kidding but anyway today we had mango tart, apple crumble and durian fudge cake. remember my mantra? - a little bit of this, and a little but of that.
the pastries over at the club are seriously good. the mango tart was heaven cupped in a tart. refreshingly satisfying, who the heck does not like mango?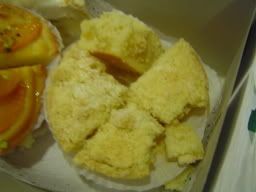 the apple crumble put up a mean fight and stood firm, winnning over my tastbuds with it crunchy apple filling and crumbly topping.. not a hint of heavy pastry- just apples and light crumbs.
finally, the durian fudge cake. i bet yang must be squirming in durham right now for this was HER cake.. full-bodied durian pulp layered between light sponge cake, coated in cream and white chocolate flakes. this will definitely make any durian activist kowtow to it.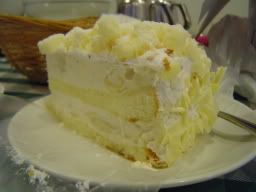 i promise you yang, i will be at changi airport with a durian cake in hand when you return! haha
i have a feeling these pictures will be responsible for the sudden increase in overseas students who will be returning back to singapore in december.
book early to avoid disappointment!
enough damage for the day! *end of food post*
sigh have i mentioned how special the post will be? as i have shamelessly posted a picture of myself in a SWIMSUIT... yes, halloween is over but i do like to pull a few scares every now and then..
.
.
.
.
are you ready?
.
.
.
.
.
.
.
.
.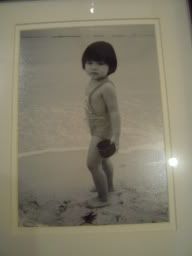 muahahaha
me aged three. looking devilishly hot in a terry cloth swimsuit and button mushroom hairdo.
are you guys just relieved? haha.. a continuity of my mum's infant-photo-gallery, here's yang aged- unknown playing with a lock
and jie, already a jetsetter in her early years, sitting in front of the parthenon in greece.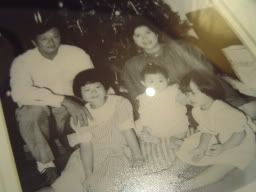 this was christman is '87.. with yang resembling a hot water bottle and me, totally distracted.. one of my favourite childhood photos