where people meet.
school tomorrow. eek. week 5. still directionless.
i was a little bummed out by the closing down of thanying express at takashimaya basement as it will not be easy to find quality mid-range thai food.. note: thaiexpress DOES NOT qualify here.. but when hongkong style cafe/ restuarant central took over, i could not help but join in the fun..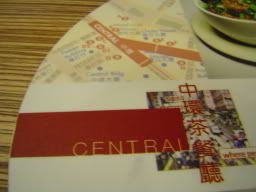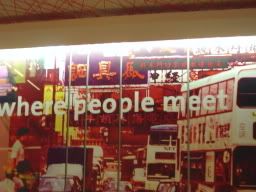 i had garlic/ sliced beef spagatti which frankly tasted better than it looks. think east meets west- spagetti tossed in onions, spring onions and loads of garlic, complimented by tender beef slices. but beware as the garlic really hits you and unless you are a dead-hard garlic afficonado or erm trying to ward of make-believe vampires.. lay off the dish.. haha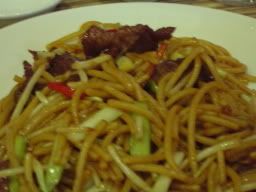 jie's beef brisket noodle soup was pedastrian enough i guess. it did not exactly look tempting enough for me to try it.. haha..
i really loved yang's baked cheese rice with pork ribs! served within an aluminium foil and contained in a dimsum bamboo bowl, the dish consisted of melt-in-your mouth cheesy goodness with a dash of tomato slabbed all over fragrant rice.. what is there not to love?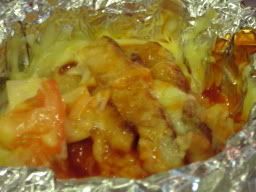 a tad dry but platable enough, mum's order of bamboo steamed rice with pork ribs would be a healthier choice.. hey i said 'healthier', not 'healthy' choice..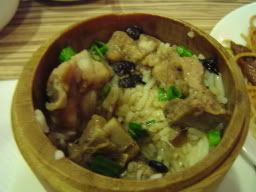 a must-try would be the peanut butter thick toast with condense milk. my love for peanut butter was not only reconfirmed but sealed after a bite of this devilishly good treat. and apparently, a tablespoon of peanut butter daily
helps keep the cardiologist away
... though too much would obviously send the nutritionist knocking..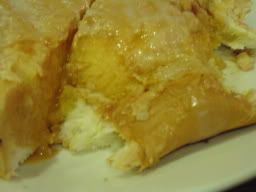 for dessert, we ordered FRIED DURIAN! ... resembling a spring roll and served surprisingly piping hot, i was a little too ambitious in popping it into my mouth.. yet despite the frantic fanning, i thoroughly enjoyed the contrast of sweet durian and delicate delight of its crisp wrapping.
overall lunch at central was a fuss-free affair- you settle down, you eat and you leave. true, you enjoy the right choices made but short of being uneventful, you would probably leave central feeling... hmmm, forgetful.