Kim's Family Food has been circulating around the food blogger scene and I'm glad I joined the bandwagon for once. There was a queue but luckily we made reservations and the proprietor's son, who resembled the Laughing Buddha, quickly showed us to a table upon arrival.
First up, the bevy of appetizers that beat salted peanuts any day! You wanna see just-kill-me-now pictures taken by with a DSL camera? Check out
Julie's
and
Philip's
blog.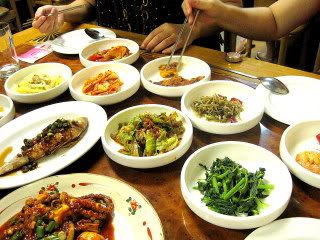 My favourite was the lettuce and spicy chili sauce. If I could snag a bottle of this spicy chili sauce, I would reconsider my abhorrence towards lettuces.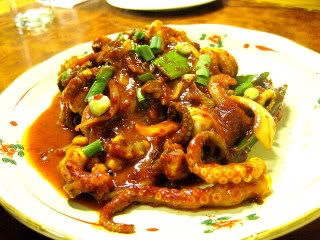 I would absolutely order the spicy stir-fried octopus again. Spicy and smoky, accented with a char-ry aroma that lingered after every bite.
The seafood pancake, Rain's-six-packed with spring onions and seafood, was a heavyweight in the savoury pancake department.
The spicy rice cake, affectionately known as My Darling Tteokbokki, was painful to enjoy. Painful because it made me miss Seoul. But delicious otherwise.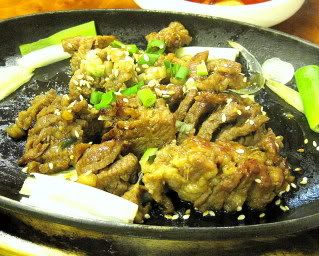 Ridiculously tender beef short-ribs.
But the jajangmyun threatened to turn this into a Korean tearjerker. As first-date-friendly as squid ink pasta. I order this out of curiosity more than anything. My sister and I didn't get to try this when we were in Seoul because we were too busy stuffing our faces (ok, at least in my case) with tteokbokki.
Hmmm, I didn't like it. The noodles were bland and served lukewarm, which felt neither here (sizzling hot chigae) nor there (cold hiyashi).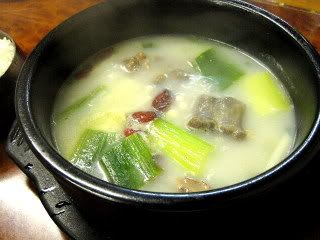 We dunked a handful of salt into the beef oxtail soup. They forgot to include this in the bill and when we asked them bout it, the Laughing Buddha sheepishly said,
Oh, $10 (instead of $14), discount… my mistake.
Aww, I actually felt bad for underpaying.
Kim's Family Food
17 Lorong Kilat
#01-06 Kilat Court
Tel: 6465 0535