The joy of travelling increases when you have pretty bentos for company. I think this is the first time I actually felt excited about arriving extra early at any departure arena - all for the sake of having ample time to choose and scrutinize each micro-component within the bento.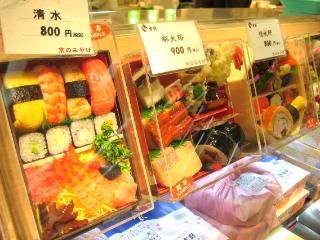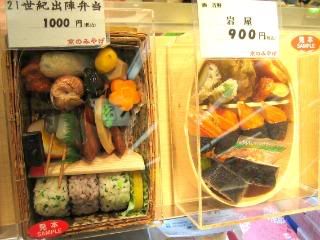 The number of bento varieties vary with each station but at either Tokyo or Kyoto station, numerous acrylic bentos posed as mannequins on display, hoping to lure buyers with their varnish and brightly coloured facades.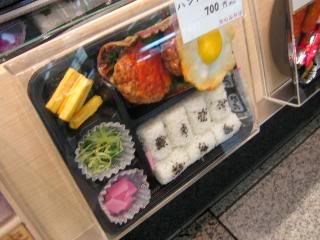 My mum would have loved this as it came with a fried egg!
From Tokyo to Kyoto
One the ride to Kyoto, my sister had this sumptuous bento above while I went for the seasonal bento below. In my bento, there was a note stating the components - if only I had a Google translator chip in my brain.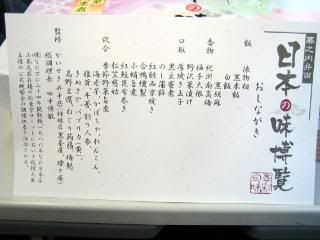 I found it amusing that we were suppose to be admiring the scenery, the cascading greens, farmlands and occasional farm animals but our attention was a 100 percent transfixed on our bentos.
From Kyoto to Tokyo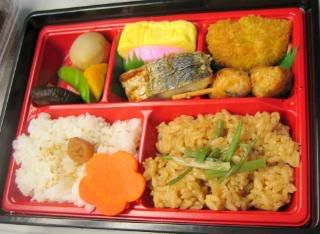 On our way back to Tokyo, we again bought bentos, this time adding an additional boxed sushi since it was a speciality of Osaka-Kyoto region.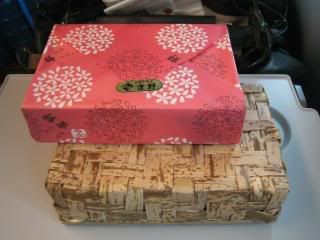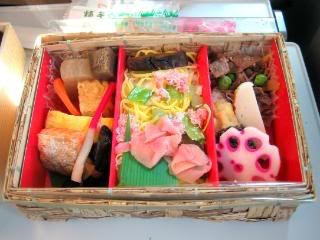 中央のちらし寿司にはズワイガニを使用し、煮物は冬を連想させるおでん風に仕上げました。焼鮭や出汁巻き玉子、牛肉煮など幕の内の定番もしっかりと盛り込みました。
寿司飯・ズワイガニのほぐし身・錦糸玉子・蕗・きぬさや・しいたけ・しょうが
焼鮭・出汁巻玉子・はじかみ・昆布巻き・焼板蒲鉾・海老団子
煮物(乱切り牛蒡・大根・人参・一口厚揚げ)・梅花蓮根・山芋磯辺巻
すき焼き風牛肉煮・グリーンピース・金平牛蒡
From
Awajiya.com
(sang to the tune of Jingle Bells)
Oh what fun it is to ride in a Shin-kan-sen today!