Sunday lunch with the family and my parents suggested trying out the new lunch buffet at The Eagle, SICC.
Mesculun salad mix. Various salad toss-ups using Thai beef, sweet & spicy squid, crab rilette, smoked duck breast etc. Sushi platters. Nonya laksa. DIY rojak. Pizzas. Sole Roulade. Damn tasty fried chicken. Fried Kway Teow. Veal Piccata. Bread & butter pudding. Orange tart. Miniature lemon cheesecakes, strawberry and mango mousse slices, choux pastries, chocolate mousse, tiramisus, panna cottas etc (you can tell where I spent most of my time yeah?).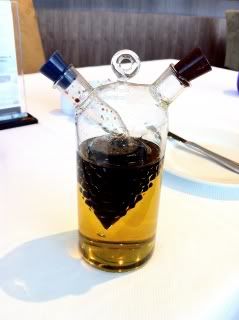 And the cutest balsimic vinegar and oilve oil bottle.
Small but satisfying selection.I didn't take too many pictures of the hot food because it would be quite gross flipping open the lids just to take pictures and er, this wasn't an invited food tasting session.
Good times for we had a reason to celebrate after all =)