There is nothing I love more than omakase.
Hmmm, actually that's not really true. I love pre-spring, post-autumn 20 degrees celsius days. I am on a relentless pursuit for shoes that don't pinch my toes and purse. Random calls or emails from friends make me grin foolishly. I would give up a few years of my life to be able to travel with reckless abandonement.
But omakase is right up there with the rest. Top five. Cross my heart, lungs and anything that hasn't been damaged by Diet A&W and curry puffs.
Going omakase is such an adrenaline rush - the thrill and surprise of the experience is second to few. With little hesitation, I decided omakase with Chef Mervin Goh was the way to go for a birthday dinner took place at Akashi, Orchard Parade Hotel.
With one of the longest counters in Singapore, Akashi's sushi bar is a stage. A stage for sushi chefs to fulfil their narcissistic dreams and feed an hungry audience who
just can't say no to them
. On a busy night, the sushi counter is pure theatre, so just sit back and prepare to yell, "Encore!" (Kiddin' about the yelling, unless you want to fulfil your drunk salaryman role play.)
Our starter: shirako (cod fish sperm sac) in ponzu, with sliced chili and daikon. I could feel the chef watching us, thinking, Would they relish the creamy yet tangy tastebud-titilating flavours or
recoil at the thought of a sperm sac
?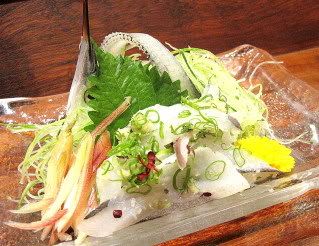 Next up: a whole Sayori fish. The beauty of this dish was that is the whole fish was used. The body was sliced as sashimi with a smattering of spring onions, and the head, spine and tail were later deep-fried.
Then came the bevy of unapologetically-fresh sashimi, which were served sequentially:
Shima Aji (Striped Horsemackerel)
Hokkaido Hotate (Hokkaido scallop) - the biggest I had ever laid eyes on.
Kampachi belly (Amberjack belly) - belly-love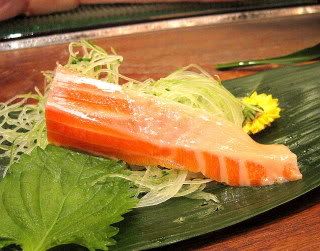 Sake belly (Salmon belly) - fat floppy flab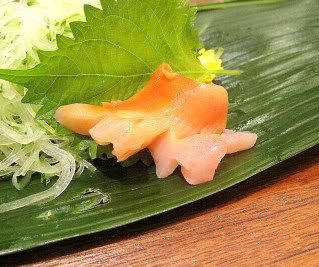 Arkshell - chewy
Otoro - I would give up a body part for this. Maybe my fourth toe.
And the sushi followed thereafter. What I love about Akashi's sushi is that only a mini nob of rice is used and the fish just flops over like someone who has had too much to drink.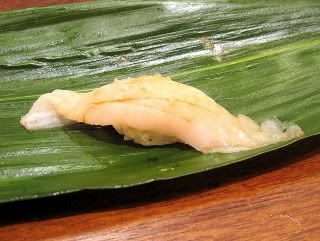 Hirame (Flounder) - with a hobbit's pinch of sea salt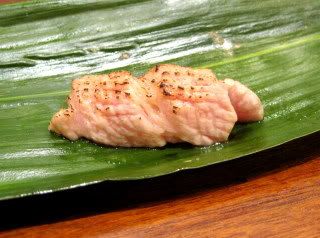 Aburi Otoro (Torched tuna belly) - seriously, the other fourth toe as well.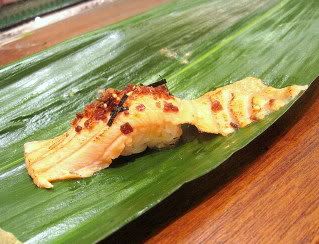 Aburi sake (Torched salmon)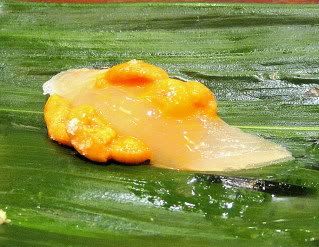 Flounder with uni
Other cold dishes included: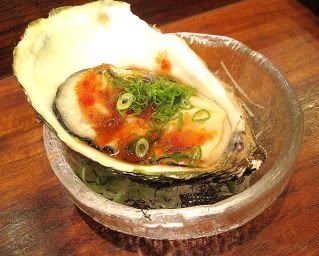 Oyster with ponzu sauce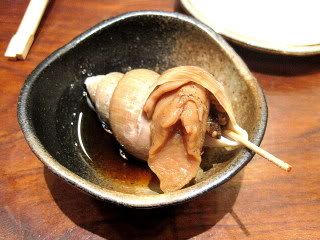 Shiro Baigai (white snail) in shoyu sauce - the Japanese must have thought,
Let the French have those squigish escargots
when they struck gold with the Shiro Baigai.
Although we requested for more sushi and sashimi items, we were also served a few cooked dishes.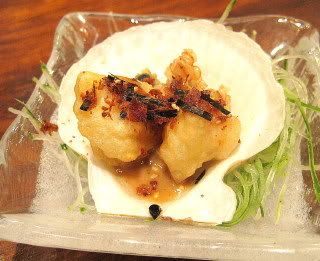 Hokkaido hotate with peanut-sesame sauce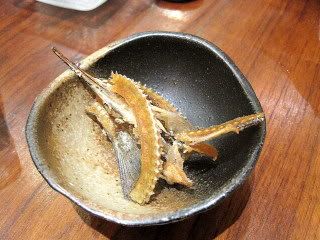 Sayori critters from our Sayori sahimi earlier
Mutsu Yuzu - a Japanese blue fish marinated with citrus dressing then grilled.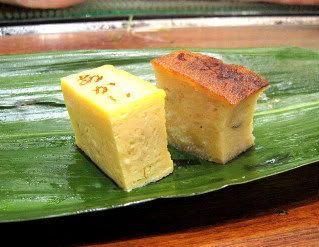 Two types of tamago - pan-fried and baked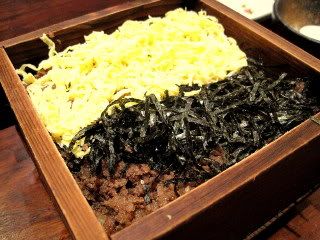 Wagyu seiro mushi - steamed rice topped with minced wagyu beef, omelette shreds and seaweed. The wagyu fats permeated the rice bed below, coating each grain with an irresistable glisten.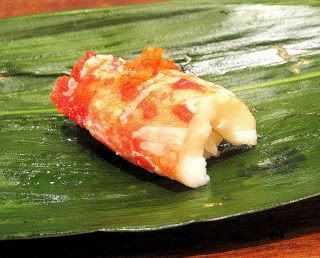 Our "One more?" - Hokkaido crab nigiri - WTH good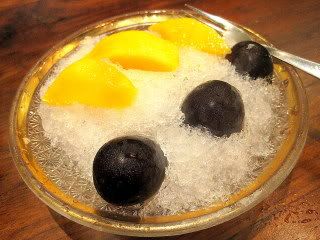 Comfortably full, we ended the meal with some Kyoho grapes and mango.
I consider myself to be pretty good with self-retraint but the thought of omakase is racing to scratch my credentials. Of course, it doesn't help that I have Mervin's handphone number in my phone... which is stored under "ICE" - In Case of Emergency.
Akashi Japanese Restaurant
1 Tanglin Road, #01-01A
Orchard Parade Hotel
Tel 67324438